Search results
キンバリー
Head up to Broome where you can spend days discovering dinosaur footprints, walking out to WW2 bomber planes that are usually hidden in the sea, riding camels along the beach, watching the 'Staircase to the Moon' from town or relaxing on Cable Beach. Your final stop in northern WA is Kununurra, home to Bungle Bungle Range, Mirima 'Hidden Valley' National Park, and Lake Argyle. With spectacular gorges, waterfalls, and caves, this place is a postcard.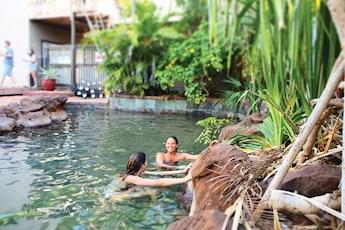 Broome | Yawuru People
Comfortable, stylish hostel in the centre of Broome with pool, garden bar and tropical surrounds.
Details